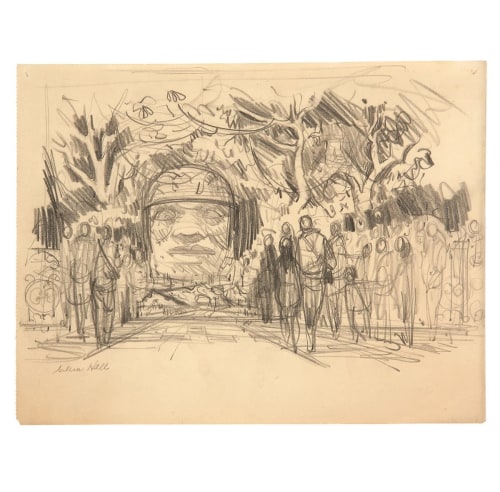 I always thought that Clem Hall's easy-going manner belies the greatness of his work, which was huge in size as the head of the Paramount Scenic Art Department. He was as comfortable doing a 400 ft background for Hatari, 1962 adventure romance set in Africa, as he was doing a small sketch on camera. Clem's gift as a portrait artist was discovered at MGM Studios where he did the portraits of many Hollywood stars such as Elizabeth Taylor, Judy Garland, Fred Astaire and Walter Pigeon and later the same was true at Paramount where he painted such talents as Bette Davis, Groucho Marx, and Ann Margaret.
Clem brought this wealth of scenic and portrait knowledge as well as his skill as a watercolorist to Imagineering as a flawless technician. He was able to translate the distortion of scenic work onto a canvas as a traditional painting and could do the reverse as well. In scenic work the canvas is often so large that it is outside of our normal range of vision so that horizon lines appear to bend. It is an optical illusion and a distortion that you have to be aware of and compensate for when painting an illustration. When you are looking at a normal size canvas the distortion is not there. Clem was able to go back and forth between a large scenic piece and the average sized illustration because he understood the distortion and how to compensate for it in.
Clem is one of those rare artists whose work could be given directly to the infield builders and replicated easily. This was due to his experience as a scenic artist and understanding what could be built and how it would be painted. In some illustrations, he even indicated the scenic treatments that he knew would get the effects that he wanted. His paintings advanced the project work because they informed others of what needed to be done and he did have the opportunity to take his art into the field as an art director.
Clem could also take the big over view approach to a painting as in his birds-eye-view illustration of Big Thunder. This type of painting informs people of how the different elements within the attraction and surrounding it relate to each other and is descriptive in nature. It requires the illustrator to give up the drama of the close up shot framing the guest reaction because it is not meant to sell the project. In contrast, the Pilgram's painting for the American Adventure Show the American Adventure Pavilion in World Showcase demonstrates his ability to create a compelling story illustration. When looking at the painting, you can almost feel the damp gray cold of a Plymouth December. Being mindful as to the purpose of a painting, each of Clem's illustrations took on its own character as a story. He could produce the Pilgram's painting and provide the humor necessary for the Haunted Mansion Disneyland portrait stretch pictures in the foyer of the attraction.
As an illustrator, Clem was always eager to share his technical expertise as to the mixing of colors, the use of a brush, or the best way to achieve an effect in a painting. Clem seemed to be such a proper gentleman with a trace of an English accent that went with his precise diction and grammar. His language and demeanor was as proper and careful as his art. However as you came to know him, you soon discovered that his dry wit gave way to practical jokes. And, of course, I will always remember seeing the pictures of him painting scenic backgrounds on ladders dressed with a coat and tie.