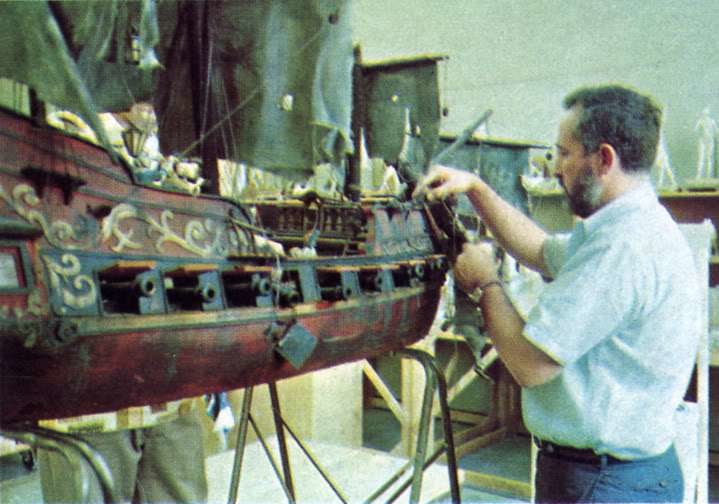 On my first day at Imagineering, Collin was asked to take me to lunch (as the new guy on the block) and it was the beginning of many fascinating conversations about life and art. I see Collin's strength as an illustrator as being in his ability to draw and his understanding of how to put show elements together that can be built. He is one of the illustrators gifted with the ability to illustrate ideas and take them into the field as an art director.
As a fine artist, Collin ranks among the best as a watercolorist who is very good at recognizing the opportunity that watercolor offers. Generally speaking the watercolorist is working with a wet surface and applying paint to it. There is no real control over the paint once the brush touches the paper and at best, the paint can be encouraged to go in a specific direction. You might say that the watercolorist has as much control over the paint as the surfer has over the wave he is riding. However, Collin knows where he wants the images and how to define those images with light and dark shapes. He brings this skill into his illustration work.
I think that his personality always manages to get into his paintings as well. They are professionally done, they are "Disney", and yet they are whimsical and as much fun to be around as he is. Unlike some illustrators, Collin knows when to ask others for help with an illustration before it's too late. He was working on a painting of Typhoon Lagoon for Walt Disney World and, as many of us have experienced when we get too close to our work, needed a pair of fresh eyes to help out. Herbie stepped in with brush in hand making two changes to the art. Collin stylized painting of the lagoon had realistic bright white Florida clouds and a well-defined lush green foreground. Herbie put a yellow wash over the clouds and with a few simple strokes of red and blue to paint, broke up the realistic green foliage in the foreground and unified the style of the painting.
Collin is one of the few artists who can claim a long history with Disney. If anyone understands the Disney way, he does. Collin began as a mail boy at the studio when he was sixteen because he wanted to be trained in animation. Unfortunately, WW II interrupted both the Disney Studios training program and Collin's employment. He later studied at a night school for illustrators and went to Paris for further art training. He returned to the Disney Studios doing layout and backgrounds. When he came to Imagineering, it was known as WED and Collin started in the model shop with Claude Coats and Harper Goff where he had the opportunity to build models and go into art direction.