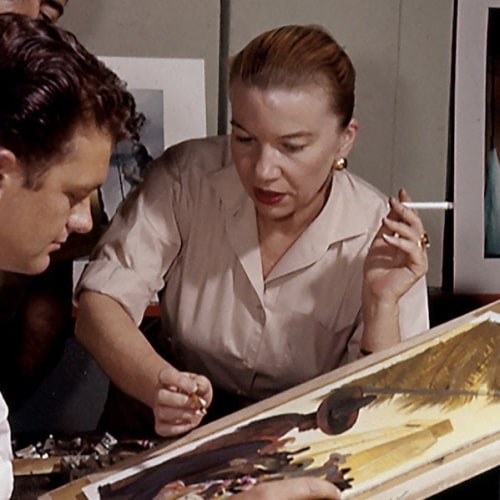 While I was at Imagineering, Dorothea Redmond's illustrations were my inspiration for working with watercolor as an illustrator. I didn't come close to the standard she set, but I tried and even now as I look at her work I know that this is what I want to paint like. Watercolor is one of the hardest yet least recognized mediums that an artist can choose for illustration or painting. Her use of light and color is exceptional in addition to her masterful control of the medium. On first glance, watercolor looks loose and interpretive (almost easy) but a watercolor painting takes very careful planning to pull off the light and dark areas with loose brush strokes. The carefree abandonment is not carefree; it is very well thought-out placement of shapes and color. In watercolor, you don't paint the white, you paint around the white as Dorothea has done so often creating streams of light that would spotlight where she wanted us to look. Lighting is literally her signature as an illustrator and storyteller. It is the result of skillful brushwork and forethought. I am always amazed at how much detail she implied and rarely painted.
When you first look at her painting, you think that every detail has been painted and yet close inspection reveals that they are implied and that she never got too specific. Designers really appreciate this illusive treatment of details because it gives them a great painting that doesn't lock them into details that they have not yet decided upon.
But for me, her astonishing treatment of the attractions at Disneyland especially the Main Street shops and restaurants and later for the pavilions in World Showcase set the standards for Disney theme park interior illustration and design. She often found her inspiration for images in books and read novels of the time period that she was illustrating for the subtle details. She indicated that reading stories of the times brought together all the independent aspects of her research, the hand arts used on a table, the tea set, the draperies, the design of a chair, the lighting elements would come together in a cohesive scene that had emotional substance. A scene she ultimately draped in light using watercolors to create a restaurant on Main Street at Disneyland.
As a set designer, Dorothea's best known for her work on "Gone with the Wind" where she did the storyboards or what was then called continuity sketches for the interior and the exterior scenes. She was equally successful in visualizing the sets for "Rebecca," and "Rear Window" both considered film classics. Walt Disney hired her to layout his private apartment at Disneyland and to design Club 33, the private lessee dinning rooms, above the Pirates of the Caribbean attraction at Disneyland. In addition, trained as an architectural illustrator for exteriors and interiors of buildings, she often worked for commercial architects.