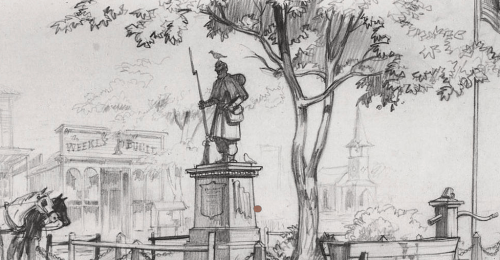 I remember telling someone that I was astonished that Harper was an artist. Because when I met him. he was a production designer on the Japan Pavilion in World Showcase at Epcot letting others, like me do the illustrations. Never mentioning his own work. When I look at Harper's watercolor paintings, I can see that he was illustrating an idea, but he was also designing at the same time. He was showing his design in an artistic way. In Harper's illustrations, you can literally see the doorknob detail including the 4-screws attaching it to the door. In contrast with Dorothea Redmond where you assumed the door handle was there, but upon close inspection—it was loosely implied with the stroke of a brush.
It is most difficult to accomplish the level of detail that fascinated Harper in a medium like watercolor. Detail was like a feasibility check for him because his painted illustrations that he knew could be built and it was a part of the logical order of his work. Harper had the ability to recognize talent and projects that had great potential for success. He also had a knack for creating opportunities to discuss ideas. He would simply sketch up what he wanted to discuss and put the sketches up in prominent places in his office or work area. When people saw them, the opportunity for discussing the idea presented itself. When Harper he worked on Epcot's World Showcase he did a series of sketches based on the notion that the reason people go to foreign places is to see the sights, experience the culture, and the people that are specific to them. His sketches highlighted those things that various countries and cultures were known for such as a realistic Minaret for Morocco, the clock towers for Germany, and the pagoda for the Japan Pavilion. As people saw the sketches and discussion opened up, Harper created enthusiasm for his for World Showcase concept layout. Many of us were encouraged by this and followed his example by sketching up ideas for discussion.
Harper's larger than life style spawned such films as 20,000 Leagues Under the Sea and influenced Willy Wonka and the Chocolate Factory and he certainly saw the potential for Walt Disney's theme park idea in doing the early Mickey Mouse Park and International Street sketches for Disneyland. He was skilled in different areas of artistic expertise that gave him a fuller understanding of storytelling as an art form. He was an accomplished fine artist having attended Chouinard Institute of Art in Los Angeles, California, a professional musician playing the banjo, ukulele, and organ, and a working actor in both film and television. Harper's spontaneous playfulness often came to life in the model shop when he would serenade the model builders with his banjo sitting on the edge of the big Epcot model or perform tunes from the Dixieland band, Firehouse Five Plus Two, on the model shop air hose.