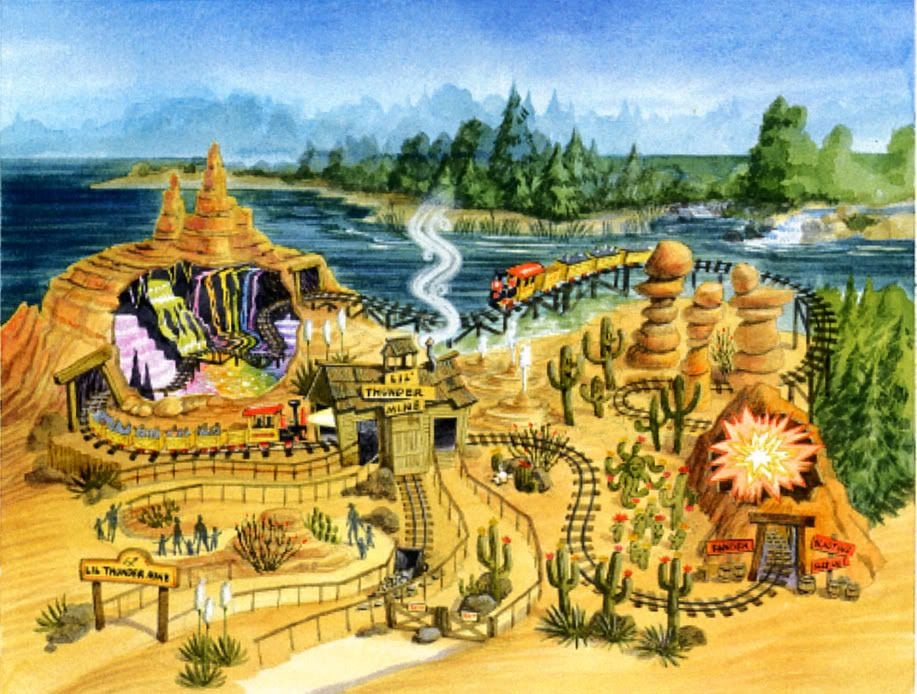 Julie Svendsen is steeped in the Disney tradition of image making. She will tell you that she was raised by three parents - her mom, dad and Disney! Both of her parents were Disney employees who met on the Disney Studios lot. Her father was an animator and story man and on occasion when she was little he would let her help him with the work that he brought home. With her natural talent and her family's influence it was inevitable that Julie would formally developed her skill at Art Center College of Design in Pasadena, California and bring to it attention to detail, accuracy, and speed.
Having a strong sense of color and design, you have the feeling that as Julie illustrates, she is designing and as she is designing, she is illustrating not unlike John Hench. The images she produces are the results of lots of thinking and talking and sketching with other designers, writers, and illustrators making Julie the definitive team player. Growing up with the Disney characters, her knowledge of them is both intimate and artistic allowing her to be consistent and reliable in their interpretation and replication and yet her emotional connection with them breathes a liveliness into them that other illustrators cannot achieve. Julie takes the Disney characters from their animation origins and translates them into the three-dimensional world of the theme parks with ease. She often worked with John Hench, Disney's official portrait artist for Mickey Mouse, on designs using the Disney characters in special locations such as the character quilts and the bedtime illuminated Tinker Bell room borders in the hotels for children of all ages.
Being versatile in her work, Julie illustrates the Disney characters as well as shops, attraction exteriors and interiors and being equally versatile in her fine arts painting she constantly explores landscapes and figure work. Julie is a wonderful watercolorist that few can equal. When in classes that I was teaching, I found Julie to be the type of student that learns from the instructor and at the same time the wise instructor will learn from her. I have seen her painting in the mountains in Montana with her paint water nearly frozen and yet the paintings were fresh and vibrant. At a Marysville ghost town in western Montana, she sat in the middle of a dusty street in blasting heat and again painted a beautiful landscape watercolor. Don't let her mild manners fool you; she is a wonder woman with paints and defying the weather. When you first meet and get to know Julie she is direct and straightforward but the more you get to know her you discover her many gifts. I am reminded of the Haunted Mansion stretch pictures that she painted in the foyer of the building. As the elevators lower guests into the next phase of the ride, the pictures become longer revealing intrigue, excitement, and fun. I think the more you get to know Julie the more you become with her many abilities and how similar she is to her painting.