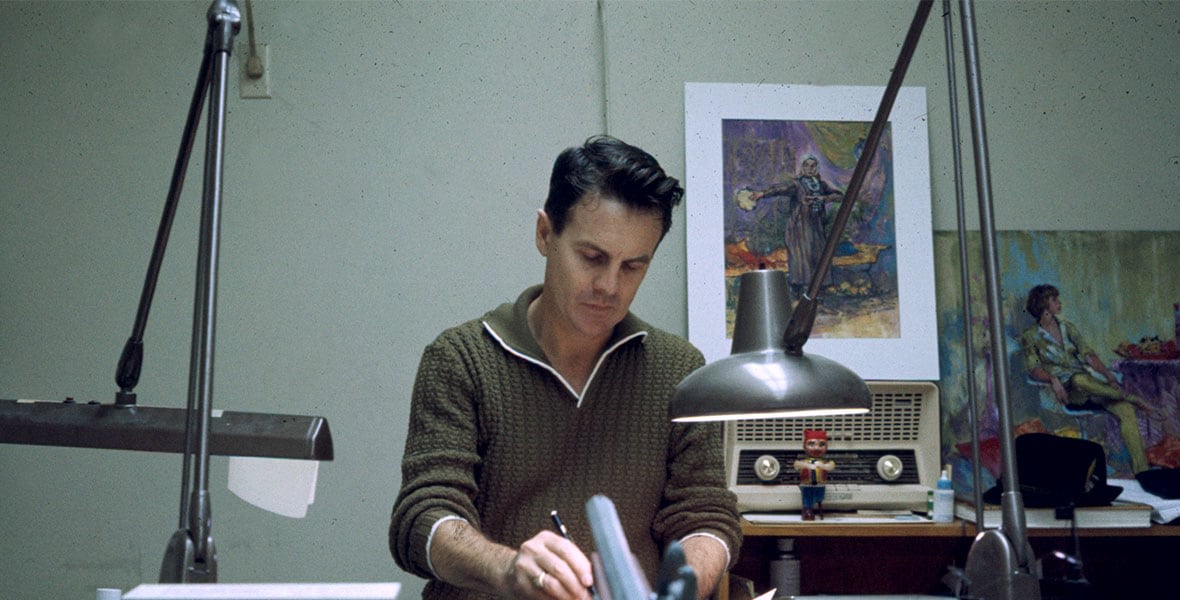 I think of Sam as being Imagineering's Norman Rockwell, the 20th Century painter who captured both the lighthearted aspects and the serious political issues of Americana. Sam makes me think of him this way because of his genuine interest in people, fascination with the positive aspects of life, plus his belief that humanity is inherently good. As illustrators, we always have a choice as to how the illustration will look and Sam always choose to highlight the best features of the project producing an optimistic and hopeful illustration. He had a high ethical standard in both storytelling and in his art that allowed him to simply edit anything that he felt was negative or not in the best interest of the story he was telling. These standards were aligned with the wholesome aspect of Disney storytelling. He was a master of the sketch as well as the fully painted illustration. The Thanksgiving Dinner in the American Adventure Pavilion embodies Sam's innate interests in storytelling and painting talent. It is a family setting and in keeping with that notion he used people he knew, Imagineering artists, to model for key family members. He has represented different age and ethnic groups indicating that Americans are a diverse group and implying that we are from everywhere and we don't look a like. He moved to a more conventional style of painting for this illustration than his typical loose sketchy paintings. The topic required a formal approach plus he was well aware that this painting would hang in the rotunda of the pavilion that was to be a gallery showcase of paintings. He chose oil paints and with superb craftsmanship, did a realistic painting of the event.
Most of Sam's paintings looked like a movie and for good reason, his career began as a child actor in western films with such great cowboy stars as Tom Mix, Gene Autry, Roy Rogers and many others. In between "takes", the down time when the cameras were not filming, he put his natural drawing skills to work sketching the movie sets. After formal fine arts training, Sam headed back to the studios to do story sketching for films and was hired by Walt Disney to work on sketches for Disneyland's Frontierland. Although Sam can be described as a realist who had great respect for details and historical accuracy, he was also a romanticist who could easily bring a nostalgic element to his stories of the old west. He excelled in themed period illustration especially, Americana which was his first love. His Disneyland Souvenir map is a great example of how his realism and romanticism worked together. In making the map, Sam clearly understood what the guest wanted to see or certainly thought was in the park based on their experience and this is what he included. As a realist, he drew their experience that he could then romanticize. If he had approached the map strictly as a realist, it would have included restrooms, storage spaces, and employee areas and not really been a guest experience souvenir.
Not people know Sam the artist was also a warrior. He served in the U.S. Army in WW II and fought in the Korean War. He earned the Distinguished Service Cross medal for being shot down in combat in Korea. It was after the war that he began working as an actor and eventually worked directly with Walt Disney and the Walt Disney Company for 32 years. Sam was the real deal and one of my biggest heroes.