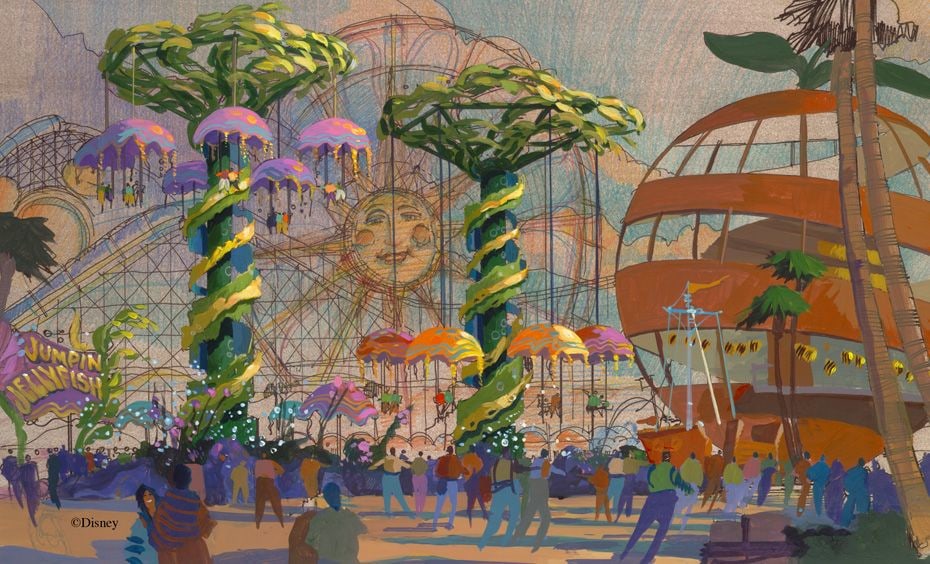 When I first saw Tim Delaney's work I thought what an incredible, new, fresh direct approach! His illustration has all the flash and drama of a stellar marketing piece meant to grab your attention; however upon further investigation you discover as I have that it's very well designed making it first a good design and then a great illustration. This kind of story illustration lends itself to decision-making and moving projects from the first spark of an idea to opening day. Tim's illustration capability goes hand in hand with his desire to take an idea from its conception to completion and he refers to this as his need for balancing creating and building.

Being aware of the power of the illustration, Tim will tell you that the purpose of an illustration is to create a vision and being in the story communication business, he will also tell you that the best visions portray powerful emotions suggesting 'wow' experiences for Disney guests. It is a pretty well known adage that a good illustration can sell a bad idea and a bad illustration can harm a good idea. With Tim's ability to both design and illustrate, we are assured of getting a great idea and illustration. When I look at his illustration of Space Mountain for Paris Disneyland, I am reminded of Robert McCall's work in that it is technically correct, solidly designed, and elegantly drawn with a beautiful fine arts cover. The foundation of the painting is correct so that it can be built and the story is strong with an equally strong design so it is easy to see why the project was funded and was such a great success.

I am convinced that while Tim is painting the outside of this attraction, he is actually seeing the inside. He starts with illustrating the concept and becomes part of the story environment. Each illustration is a reflection of what he sees, hears, and feels in this environment. And each illustration fits succinctly with the next as he builds progressive scenes with tangible experiences that create anticipation, thrill, suspense, or exhilaration for the guest. The emotional tangible vision is important to the product and art direction because it allows ideas to be developed and it rallies team members to the tasks at hand. After having built six theme parks, I believe that there are few who know the power of story illustration as he does. He credits Herb Ryman and Ray Bradbury, well known science fiction writer, as being long time mentors. As a fine artist, he does posters, figurative, and landscape work. He was influenced by the work of Grandville Redmond, early 20th century artist who was a friend of his family's and Tim grew up with his paintings on the walls of his family's home and has continued the tradition in his own home. Tim's training as an industrial designer began at Art Center College of Design in Pasadena where he graduated with honors.