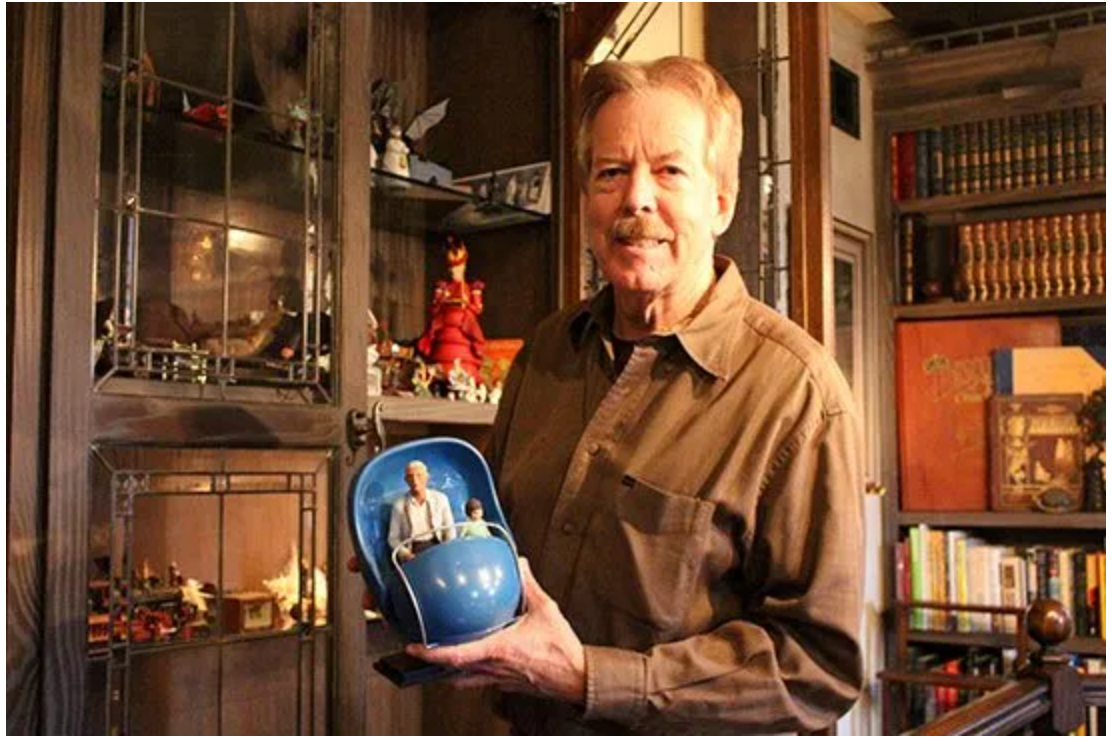 When I first met Tony he was in the model shop and had the ability to work back and forth between the illustration and the model with ease. He was in the model shop at a time when an illustration, sketch, or doodle as they were sometimes called would attract attention to a new idea or needed visual solution so that discussions could take place with important decision-makers. Discovery Bay, a concept for Disneyland, is an example of a doodle that opened up discussion for Tony with those that were seeking new ideas for projects. Tony's illustration work is concise and focuses on the staging of the attraction so that you know what the guest experience will be and exactly how he thinks it should be built.

I believe that Tony's innate sense of what an audience wants comes from having grown up on the Disney products, films, television, and Disneyland. He will tell you as an eight year old that when he rode the Peter Pan ride and heard Peter say "Come on, here we go!" that he flew out of the Darling children's nursery window on his own flight to Never Land. Convinced that his ship had left the track, Tony had the ultimate adventure story to tell at home complete with the magic of city lights, mysterious islands, mischievous lost boys, and the cantankerous Captain Hook. This experience shaped his fascination and love for story that happens to you. Tony feels that the best stories are the ones that you get to be in like the Jungle Cruise at Disneyland where you navigate the most famous rivers in the world or taking the jeep through Indiana Jones Adventure at Disneyland only to be stuck in the vehicle and barely escape the rolling ball. Tony gives guests an experience to take home with them rather than showing an audience the story. He does this by taking the audience with him on an emotional journey through a progression of story spaces. Combine this ability with Tony's understanding of theatrical space and sensibilities as to what can be built, and it is clear why he is a superb visual storyteller.

Tony is articulate in his understanding of theme park illustration and design principles and, although, he can describe something verbally, he will tell you that the illustration intrigues the on-looker and opens discussion in a way that conversation can't. In understanding the purpose of an illustration, Tony now leaves the marketing or selling illustrations to those he feels can do it better like Dan Goozee, Bryan Jowers, or Nina Rae Vaughn while he does those illustrations that inform the work of others responsible for creating and building the attraction or focus on visual problem solving.
Tony has lead or was involved in the development of many Disney theme park favorites including Big Thunder Mountain Railroad, Journey Into Imagination at Epcot, Star Tours, Splash Mountain, and art director for Paris Disneyland. Tony believes in being mentored and in mentoring. He credits Claude Coats and many other Disney Legends at Imagineering as his mentors as well as his theater teacher, Dr. Maxine Merlino, who taught him that theater was a real discipline with responsibilities and opportunities. Graduating from Long Beach State, Long Beach, California with a degree in Theater Design, Tony also took a minor in Education but he actually started in architecture and then moved into landscape architecture.